Robert E. Wronski, Jr.
Every Friday I will be posting here an excerpt from my book, the Horror Crossover Encyclopedia.  These excerpts will be entries from the book featuring some of my favorite series, often series you might not expect to find in a book about horror crossovers.
BATMAN (TELEVISION SERIES)
Release Date: January 12, 1966 – March 14, 1968 (Contemporary Setting)
Series: Batman (TV)
The Story: Batman and Robin protect Gotham City from various bizarre criminals.
Notes: For Horror Universe purposes, this dynamic duo is Dick Grayson as Batman and Bruce Wayne Junior as Robin.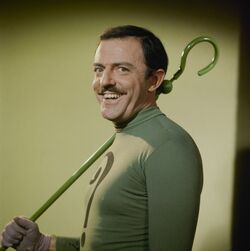 SEASON 2 EPISODE 27 "THE PENGUIN'S NEST"
Release Date: December 7, 1966 (Contemporary Setting)
Horror Crosses: Addams Family
The Story: The Penguin opens a restaurant where customers must write down their orders, so that he can then learn to forge their handwriting.
Notes: The irony is that the restaurant was successful financially when legit. During their usual wall-climbing…
View original post 115 more words