Every Friday I will be posting here an excerpt from my book, the Horror Crossover Encyclopedia.  These excerpts will be entries from the book featuring some of my favorite series, often series you might not expect to find in a book about horror crossovers.  
THE ADDAMS FAMILY (TELEVISION SERIES)
Release Date: September 18, 1964 – April 8, 1966 (Contemporary Setting)
Series: The Addams Family
The Story: A loving tale of an extremely eccentric family.
Notes: The Addams Family is actually brought in via an inclusion in Anno Dracula. Though Kim Newman's series is a divergent timeline, if they exist there, they should exist here as well. This show was cancelled in 1966 but was revived in 1973 as an animated series. The series was rebooted in 1998 with the New Addams Family. Due to its popularity, the show has been spoofed on many occasions and has also been referenced in many shows and films.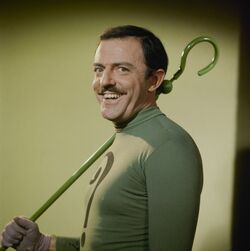 SEASON 1 EPISODE 22 "AMNESIA IN THE ADDAMS FAMILY"
Release Date: February 19, 1965 (Contemporary Setting)
Non-Horror Crosses: Batman
The Story: Gomez gets amnesia and acts normal.
Notes: At one point, Gomez is bonked on the head and acts like the Riddler. That's really interesting as John Astin, who plays Gomez, will play the Riddler in Batman, but that show hadn't even started yet, nor had Astin been cast in the part yet. But from a metafictional perspective, it's clear that Gomez was the second Riddler.
For more Batman crossovers, click here.
For more Addams Family crossovers, click here.  
And you can purchase the Horror Crossover Encyclopedia by clicking here.